The Bullet Valve® (BV) represents yet another evolution in air valve technology from MAC. The Bullet Valve utilizes "lifting" solenoid technology. The MAC "lifting" configuration is unique, however, in that the valve maintains a balanced design - a signature feature of a MAC valve - shifting forces are consistently high and response times are repeatable regardless of inlet pressure fluctuations.
This innovative design is unprecedented in the market in its ability to provide speed, repeatability, long life and high flow in a unique cartridge package.

2-way and 3-way configurations of the BV cartridge are available in sizes 9mm, 10mm, 14 and 21mm (up to 1.000 Nl/min).
Features and Benefits:
• Balanced poppet
• High speed
• Energy-saving circuitry
• High shifting force
• Low wattage
• Low Leakage version available
• Bullet Valve® with double diaphragm can be used for liquids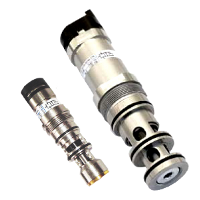 You design it and we make your manifold in no time.
LDA makes your application Unique for an affordable price.

Check out Bullet Valves Pages to learn more about our Bullet valves or download the Bullet Catalog.


If you want to be informed by our specialists, please call +32 (0)2-266 13 13