Interchangeable, Maintenance-free vacuum cartridges quickly replace failed multi-stage pumps
Ideally suited for use in dusty and dirty environments, RTM™ cartridges replace failed or clogged multi-stage pumps, minimizing downtime and maximizing productivity. Unlike multi-stage cartridges, Vaccon's single-stage cartridges allow dirt, dust and debris to pass through the pump without clogging.RTM™ cartridges thread directly into existing multi-stage vacuum pumps and vacuum grippers for immediate, reliable, trouble-free operations.

Features and Benefits: RTM™ Series products use Vaccon's reliable, maintenance-free Mid Series cartridges RTM™ threaded cartridges crossover to any Mini Coax model™ Quick installation – simply unscrew the Coax™ cartridge and screw in the Vaccon RTM™ Also available: Complete RTM™ pumps, directly replacing VGS 3010 models Interchangeable cartridges allow you to quickly upgrade performance when your needs change High productivity – powerful vacuum up to 948mbar Reliable – straight-through design operates trouble free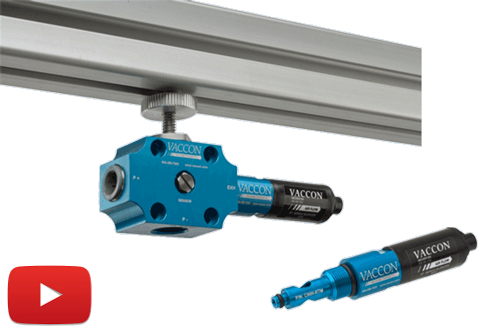 Check out our Vaccon Product page to learn more about our vacuum solutions ordownload the Vaccon RTM™ Datasheet.



If you want to be informed by our specialists, please call +32 (0)2-266 13 13
www.LDA.be - This email address is being protected from spambots. You need JavaScript enabled to view it.

Hoge Buizen 53
1980 Eppegem
Belgium