ITT Enidine is revolutionizing the industrial shock absorber market with the release of the industries first environmentally friendly design.
The ECO Series was designed using materials and fluids that are safe for our environment. Models have the flexibility to accommodate a wide range of operating conditions with varying masses or propelling forces and cover a variety of application parameters.
Whether your application has a low velocity/high drive force or high velocity/low drive force condition, the New ECO Series will deliver the performance you come to expect.
Features and Benefits:
• Enicote II surface finish:
• Provides a RoHS compliant finish on all external components
• Thoroughly tested to confirm product performance
• Improved corrosion protection
• Copper Free Design
• Bio-degradable hydraulic fluids
• ISO quality standards result in reliable, long-life operation
The ECO Series non-adjustable shock absorber product replaces legacy Enidine PRO and PM models up through the 100 series

Check out Shock Absorber page to learn more about the Series ECO and other quality Shock Absorbers.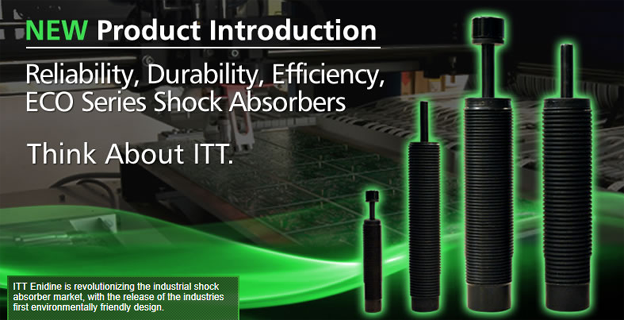 If you want to be informed by our specialists, please call +32 (0)2-266 13 13
www.LDA.be - This email address is being protected from spambots. You need JavaScript enabled to view it.


Hoge Buizen 53
1980 Eppegem
Belgium