The Enidine quality, proven by experience, exclusively distributed by LDA
Enidine is a long standing brand and has proven over the years that quality is of the highest importance within the company. Since 2007, Enidine is part of the ITT product range. ITT, a known and strong US company, has used its resources to further increase the quality of and innovation within the Enidine brand. As a result, Enidine is a large supplier to critical markets such as aerospace, military and industrial markets. Enidine shock absorbers are used on aircrafts, offshore platforms, windmills and many more challenging applications.
From micro bore to heavy duty shock absorbers, Enidine has them all.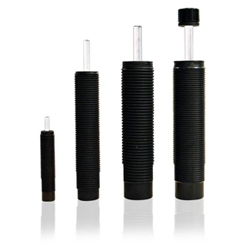 Enidine provides shock absorbers for all kinds of applications. The product range covers micro bore, small bore, mid bore, large bore and heavy duty shock absorbers. As an addition, special industry shock absorbers, rubber buffers and wire ropes for vibration isolation are also part of the Enidine product range at LDA.


Almost the complete product range is available in a nonadjustable and an adjustable version.
More information concerning the Enidine product range:
The ECO revolution
The Enidine ECO shock absorbers are a revolution in the industrial shock absorber market, introducing the industry's first environmentally friendly design.
The ECO series were designed using materials and fluids that are safe for our environment and have the flexibility to accommodate a wide range of operating conditions with varying masses or propelling forces and cover a variety of application parameters. Whether your application has a low velocity/high drive force or high velocity/low drive force condition, the new ECO series will deliver the performance you have come to expect.
LDA, solutions for life
LDA specializes for over 50 years in industrial automation and offers customers a wide range of products. LDA is recognized as a specialist provider of automation solutions in pneumatics, shock absorption, vibration isolation and gas springs in Belgium and Luxembourg. With the years, we developed a significant technical expertise and our engineers support our customers to find the solutions that correspond with their needs. For more information on our products, check out our technical catalog.

Have a question for our specialists? Call +32 (0)2-266 13 13
www.LDA.be - This email address is being protected from spambots. You need JavaScript enabled to view it.
Hoge Buizen 53
1980 Eppegem
Belgium